Weebly review and user rating.
Weebly Review
, Weebly is a free web hosting provider was providing free Unlimited MB web space with Unlimited MB traffic. Weebly's not forced any advertisement to the user pages(Excellent!). Free web hosting uptime statistics report(Beta) is a new feature available for the active web hosting provider in this directory, Freehostsfinder.com is provides Weebly uptime report, if you are seeking for a free reliable web hosting, read this first Weebly daily, weekly and average uptime report by Freehostsfinder.com the best free hosting review guide website. At this moment Weebly is 100% uptime.

Highly Recommended!
. Anyway If you are a client, please feel free to rate and post your own review.
.
Hosting Name
Weebly
Space(MB)

Un-limit or Un-metered

Bandwidth(MB/Month)

Un-limit or Un-metered

Forced Advertising
Ad. Type

No

Allow Your Advertising
Uploading

Web-based

PHP
ASP
CGI/Perl
SSL Enabling
MySql database
EMail Support
Online Web Editor
Your URL

Subdomain

Additional Requirement

No

Rank [?]

176

User Rating

7.33

Added Date

15 Nov. 2013

Weebly weekly uptime statistics report

[?]

.

Weebly average uptime is

100

%

Weebly was monitoring since December 31, 2020, 6:59 am.

1st. Mon, 11-Oct-2021 Uptime

100 %, 0.0255 s. response time.

2nd. Tue, 12-Oct-2021 Uptime

100 %, 0.0295 s. response time.

3rd. Wed, 13-Oct-2021 Uptime

100 %, 0.031 s. response time.

4th. Thu, 14-Oct-2021 Uptime

100 %, 0.062 s. response time.

5th. Fri, 15-Oct-2021 Uptime

100 %, 0.0321 s. response time.

6th. Sat, 16-Oct-2021 Uptime

100 %, 0.0342 s. response time.

7th. Sun, 17-Oct-2021 Uptime

100 %, 0.0246 s. response time.
Weebly is one of the large free and pay website provider. With the free plan you can create new websites using their powerful tools. Sign-up for a new account is really fast you can just enter the username email and password then you can go ahead navigate to create free website, free blog website and store website by simply select 3 below buttons.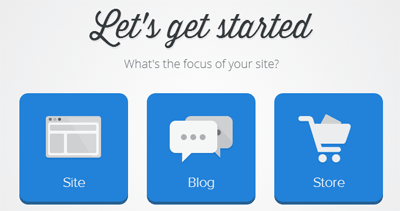 If you clicked to the create website button then what to do next is to select the template and color from various in all template categories. Your website URL will be like "yoururl.weebly.com" if you want to have free subdomain or you can alternatively take the new domain name here. So far a blank webpage is here then you can edit the objects in this page such page-title and website logo.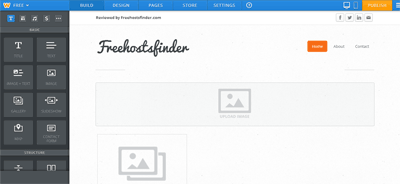 Weebly also support mobile site version, website can viewed as desktop version and mobile version, below image is what you can have during create a mobile site.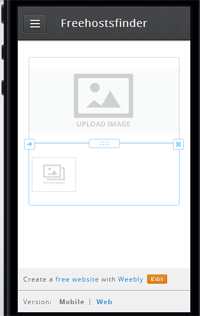 On the left-hand side you can drag and drop others objects to the page body, all objects were grouped as following:
Weebly objects and shotcuts:

Basic objects:
Title, Text, Image+Text, Image, Gallery, Slideshow, Map and Contact form.
Structure objects:
Divider, Columns, Search box, and Button.
Media objects:
HD Video, Audio, Document, Youtube, Flash and File.
Commerce objects:
Product and Google Adsense.
More objects:
Block Quote, Embed code, Poll, Social icons, RSVP form, Survey, Feed Reader, Bookings and Forum.

Weebly top menus bar.
Top menu bar includes BUILD, DESIGN, PAGES, STORE and SETTING.
BUILD:
If you are building your page such writing text or add media file, that mean you are currently in BUILD.  There are 2 available previews and switchable between desktop site and mobile site(Apples platform/Android platform).
DESIGN:
By navigation to DESIGN, you can manage to change the button color, font, theme, add a search box, social network icons, phone number and also HTML/CSS editing.
PAGES:
PAGES is where user can choose a page layout(from 4 available layouts). Password protection feature is here like the advanced web hosting control panel.
STORE:
If you are creating the website includes product to sell then this tab is used to add product pages and product categories. No worry about how customer make a payment, Weebly also have integrated the payment options here as well, so paying by credit card, Paypal and Authorize.Net are available.
SETTING:
All necessary preferences for your website can be set here including  general setting, store setting SEO setting, mobile setting , editors setting and publishing setting.
Conclusion.
If you looking for the place to create your personal website, website for organization or even ecommerce website for your small/medium business, Weebly is the website provides this kind of service which integrates all of the most professional tools, no worry about how many of products and content pages that can be published, Since now a day the visiting traffic from mobile platforms were greatly increasing , Mobile website service from Weebly will keep your visitors viewed your website for the optimized screen.  We recommend Weebly as the excellent free website service provider for both beginner and more professional. If you website is not requires the custom database and proprietary server-side programming then don't miss to try Weebly.com
Good things: Easy, website templates, fast, instantly, mobile website support, ecommerce and powerful tools.
User rates
Weebly
7.33

out of

10
based on
3
ratings.
4
user reviews.
Weebly user reviews = 4
Average user rating = 7.33 From 3 users.