uCoz review and user rating.
uCoz Review
, uCoz is a free web hosting provider was providing free 400 MB web space with Unlimited MB traffic. uCoz's not forced any advertisement to the user pages(Excellent!). Free web hosting uptime statistics report(Beta) is a new feature available for the active web hosting provider in this directory, Freehostsfinder.com is provides uCoz uptime report, if you are seeking for a free reliable web hosting, read this first uCoz daily, weekly and average uptime report by Freehostsfinder.com the best free hosting review guide website. At this moment uCoz is 99.92% uptime.

Highly Recommended!
. Anyway If you are a client, please feel free to rate and post your own review.
.
Hosting Name
uCoz
Space(MB)

400

Bandwidth(MB/Month)

Un-limit or Un-metered

Forced Advertising
Ad. Type

Top Frame

Allow Your Advertising
Uploading

Web-based

PHP
ASP
CGI/Perl
SSL Enabling
MySql database
EMail Support
Online Web Editor
Your URL

Subdomain

Additional Requirement

No

Rank [?]

183

User Rating

9

Added Date

25 Dec. 2013

uCoz weekly uptime statistics report

[?]

.

uCoz average uptime is

99.92

%

uCoz was monitoring since December 31, 2020, 6:59 am.

1st. Mon, 11-Oct-2021 Uptime

100 %, 0.2314 s. response time.

2nd. Tue, 12-Oct-2021 Uptime

100 %, 0.182 s. response time.

3rd. Wed, 13-Oct-2021 Uptime

100 %, 0.1505 s. response time.

4th. Thu, 14-Oct-2021 Uptime

100 %, 0.1668 s. response time.

5th. Fri, 15-Oct-2021 Uptime

100 %, 0.1683 s. response time.

6th. Sat, 16-Oct-2021 Uptime

100 %, 0.1543 s. response time.

7th. Sun, 17-Oct-2021 Uptime

100 %, 0.0958 s. response time.
uCoz is the most famous free website provider company among Russian people, uCoz platform provides lots of web hosting and website creation tools. Supporting multiple languages then no worry about writing you content in other languages. uCoz have free and paid services, to sign up a new free account, you are asked for some little more information as compare to other free hosting service websites that listed here, but not too many for you. Once you get one, you can start your website immediately by first choose you website template that available in hundreds. uCoz initially provides you 400 MB web space and then increasing in bytes every second and with no worry about traffic limit. Your website URL will be like "yoursite.ucoz.com".
uCoz control panel
Website can managed by uCoz designed Control Panel as below screen-shot, Control Panel account is not the same with uCoz account then you will asked before access this. It is a good place to do more things by firstly start from this page, here you can post your first post, add domain, buy paid services and more.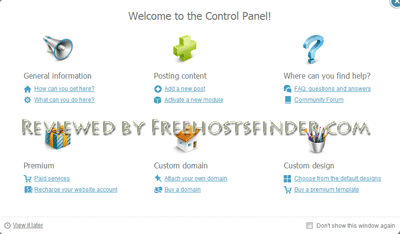 What are the most interesting inside uCoz control panel.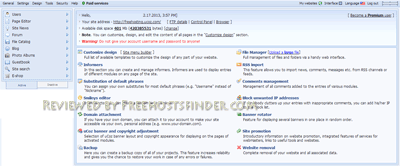 Users Management is used to manage user group, group emailing and more.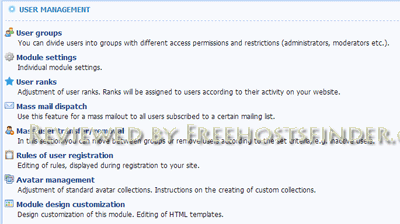 Page Editor is where you can add/remove top level pages and subpages. File manager is also here then site files can be managed to upload and download from here.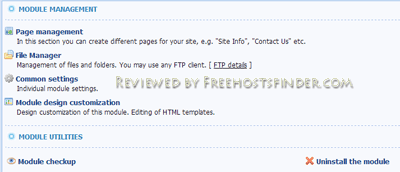 Site News is where you and the granted users to write what is going on with your site, news and any announcements here.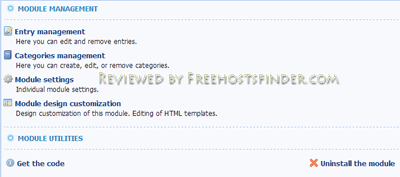 Forum used to create the user forum and forum categories.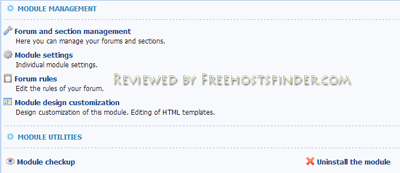 File Catalog, here is user to create file pages with can be categorized.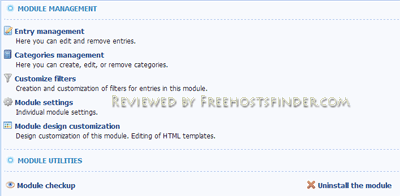 Blog management is user to create a new entry blog, manage the already published blog posts.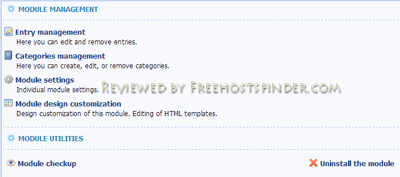 Photo Albums, photo album and single photo file can be created by upload here, multiple files uploading could not do and the only allowed file extension  is zip format with up to 15 MB size, so image files can be zipped and uploaded in a time, whenever zip file uploaded the they will unzipped and store as their extension.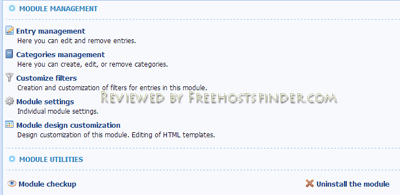 Guestbook is used to create your visitor contact-form or guestbook, you can manage to have particular fields as you want to and more specific such character length, user permission and more.

Site search have preferences are used to configured the visitor page viewable after search, for example max number of search result and which modules will be searched.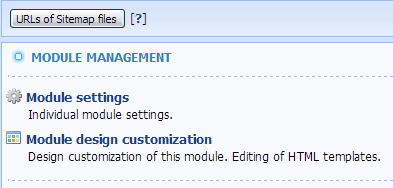 E-Shop is available for only paid account.
Forced advertising : When you published the website there will be a top frame and a bottom link text in case you are a free account.
Conclusion.
uCoz is one of the outstanding free web site service provider, with running service since 2005 then we can quite sure that they will live for long, services and tools are so powerful, even thought  you are a free account. Having many available website templates and allowed you to edit the html code so it's really flexible.
What we like:
- Flexible with many available resources.
- Instant activation.
- No limit traffic.
- Visitors stat.
- Content ranking among uCoz users.
Nice to be more.
- Mobile customized website, because of traffic from mobile devices are become significantly increasing.
User rates
uCoz
9

out of

10
based on
1
ratings.
1
user reviews.
uCoz user reviews = 1
Average user rating = 9 From 1 users.