Wordpress review and user rating.
Wordpress Review
, Wordpress is a free web hosting provider was providing free 3,000 MB web space with Unlimited MB traffic. Wordpress's clients will be forced Bottom Banner advertisement to user pages Free web hosting uptime statistics report(Beta) is a new feature available for the active web hosting provider in this directory, Freehostsfinder.com is provides Wordpress uptime report, if you are seeking for a free reliable web hosting, read this first Wordpress daily, weekly and average uptime report by Freehostsfinder.com the best free hosting review guide website. At this moment Wordpress is 100% uptime.

Highly Recommended!
. Anyway If you are a client, please feel free to rate and post your own review.
.
Hosting Name
Wordpress
Space(MB)

3,000

Bandwidth(MB/Month)

Un-limit or Un-metered

Forced Advertising
Ad. Type

Bottom Banner

Allow Your Advertising
Uploading

Web-based

PHP
ASP
CGI/Perl
SSL Enabling
MySql database
EMail Support
Online Web Editor
Your URL

Subdomain

Additional Requirement

No

Rank [?]

150

User Rating

4

Added Date

03 Nov. 2013

Last Update

15 Nov. 2013

Wordpress weekly uptime statistics report

[?]

.

Wordpress average uptime is

100

%

Wordpress was monitoring since December 31, 2020, 6:59 am.

1st. Mon, 11-Oct-2021 Uptime

100 %, 0.0016 s. response time.

2nd. Tue, 12-Oct-2021 Uptime

100 %, 0.0017 s. response time.

3rd. Wed, 13-Oct-2021 Uptime

100 %, 0.0013 s. response time.

4th. Thu, 14-Oct-2021 Uptime

100 %, 0.007 s. response time.

5th. Fri, 15-Oct-2021 Uptime

100 %, 0.0016 s. response time.

6th. Sat, 16-Oct-2021 Uptime

100 %, 0.0018 s. response time.

7th. Sun, 17-Oct-2021 Uptime

100 %, 0.0021 s. response time.
Wordpress is a place that offer you free website/webpage, sign up for a new free account just  some few seconds, there are some fields have to be filled. your account have to be activated by clicking the provided link via email, Your free URL will be like youraccount.wordpress.com. Almost the same like the installed Wordpress CMS, but using this Wordpress.com you can forget where to host the installed files, don't worry about missing the updated features and also security/reliability issue.
When you Wordpress account is activated you can start write you blog post immediately. Free templates can be selected and then there are 5 kinds of media you can add to a post including Text, Photo, Video, Quote, Link and poll.

Your Wordpress blog site is ad supported then the buttom banner Ad will appeared, but you can upgrade your site to be Ad-free. Up to 3 GB of your media can be uploaded for free account but if you want to have more space then upgrading is right for you.
Once your blog post is published, other accounts can leave a comment to your post, you can manage to approve each comment before it is published.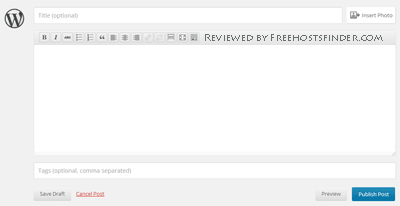 Blog posting form seems to be easy to use, media content can be added by this form, when all done you can preview it before published your new post.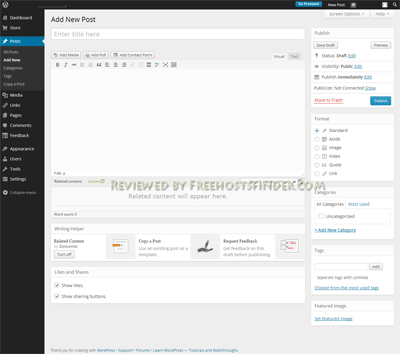 Wordpress tools:
If you have webmaster tools such as Google Webmaster Tool or Bing Webmaster Tool, you can navigate here to verify your own site from here.
Dashboard will telling you what is going on such home many posts/comments, how much space left and more.
Conclusion.
If you want to have a free professional-looked webpage, we recommend Wordpress.com as the right place. No any hidden fee, no necessary to purchase web hosting  service and no domain registration needed. Many accounts were living here then you can read others and they can also visit you.
Good things: Fast, instantly, easy, reliable and free.
Better if not there: Forced banner Ad.
User rates
Wordpress
4

out of

10
based on
1
ratings.
1
user reviews.
Wordpress user reviews = 1
Average user rating = 4 From 1 users.